27-MAR-2018

Zurich Airport
SWISS offers new expanded exhibit with attractions for all the family at the Swiss Museum of Transport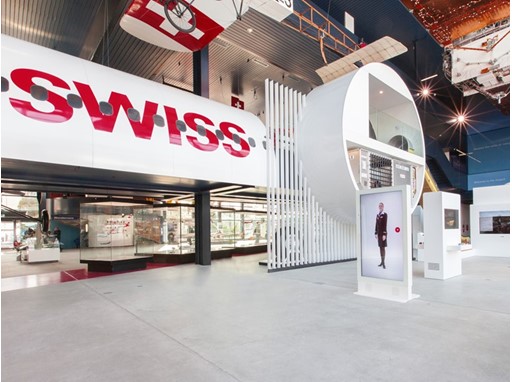 Swiss International Air Lines (SWISS) unveils its new-look display island at the Swiss Museum of Transport in Lucerne today. The two-story display, which has been revamped and extended as part of the museum's special "Switzerland in the air!" exhibition, offers exciting experiences and behind-the-scenes insights into the world of SWISS for the whole family, including a new adventure zone for children, a fun photo wall and a virtual aircraft visit.
As part of the museum's new special "Switzerland in the air!" exhibition of its Aviation Hall, SWISS has comprehensively updated and substantially expanded its display island at the Swiss Museum of Transport in Lucerne. Visitors are now welcomed to the exhibit by a SWISS flight attendant on an 85-inch screen. And in addition to its popular simulator feature, the new-look display island offers a photo wall that can be used to send some fun travel greetings. Younger visitors are well catered for, too, with the new SWISS Kids adventure zone, which boasts a host of activities all revolving around the fascinating air travel world, such as a special children's check-in and the chance to communicate via the inflight phone.
Fun for all the family
In addition to the many exciting attractions for the youngsters, the new SWISS exhibit offers numerous intriguing items for adult visitors, too, such as behind-the-scenes insights that range from the building of a Boeing 777 to the development of the inflight tableware for the Business Class cabin. The new display also features a wide selection of SWISS flying-related products, and even a virtual 360° tour of the state-of-the-art Bombardier C Series aircraft of SWISS's European fleet.
"Our new-look SWISS exhibit is sure to be a highlight of their museum visit for any aviation fan, and further cements the long-standing and fruitful collaboration that we have enjoyed with the Swiss Museum of Transport for several years now," says SWISS CEO Thomas Klühr, who joined the special exhibition's Patrons' Committee today. The new SWISS display opens to visitors tomorrow (Wednesday 28 March), along with the rest of the museum's new "Switzerland in the air!" special exhibition.
CONTACTS
SWISS Media Relations

SWISS Media Relations

Switzerland

+41 44 564 44 14