07-JUN-2018

Zurich Airport
SWISS to fly Swiss squad to Russia for soccer World Cup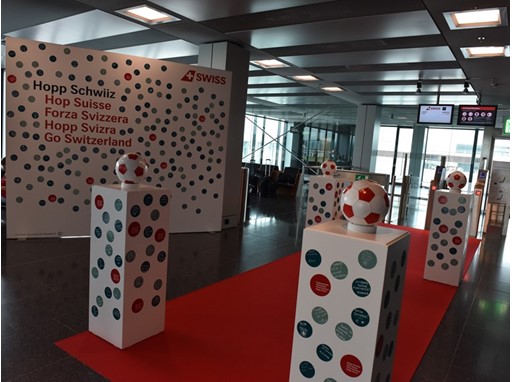 As official airline of the Swiss Football Association, SWISS will be flying the men's Swiss national soccer squad to the coming World Cup in Russia. Swiss soccer fans can also take advantage of a special charter flight to Rostov during the tournament, and of increased capacities to Moscow. And selected flights within Europe will feature culinary creations by the Swiss squad's chef during the World Cup competition.
Swiss International Air Lines (SWISS) will be flying the men's Swiss national soccer squad to Samara in Southwest Russia, where the squad will be based for the coming World Cup tournament, on Monday 11 June. The special flight to Samara Airport will be operated with an Airbus A321. SWISS will also be flying the Switzerland squad back home from Russia after the event.
Fan charter and more capacity to Moscow
SWISS will also be offering Swiss soccer fans numerous opportunities to go and experience the coming Russia World Cup. On behalf of TRAVELclub, the official tour operator of the Swiss Football Association, SWISS will be providing a charter flight to Rostov on Sunday 17 June for Switzerland's first group game against Brazil. SWISS will also be increasing its capacities to Moscow during the World Cup tournament, including operating its flagship Boeing 777-300ER on the route on selected days.
Players' favourite meals on board
In a further special feature for the World Cup event, SWISS is offering passengers the chance to sample the food which the national team's players will be eating during the tournament. From mid-June to mid-July, culinary creations by long-serving team chef Emil Bolli will be served to both Business and Economy Class travellers on selected European flights. Emil Bolli has created four starters, eight main courses and eight desserts for SWISS, based on the meal plan of the Swiss soccer squad.
CONTACTS
SWISS Media Relations

SWISS Media Relations

Switzerland

+41 44 564 44 14
MORE FROM Press Releases
SUBSCRIBE TO RSS FEED
XML