11-APR-2019

Zurich Airport
SWISS reports slight increase in first-quarter passenger numbers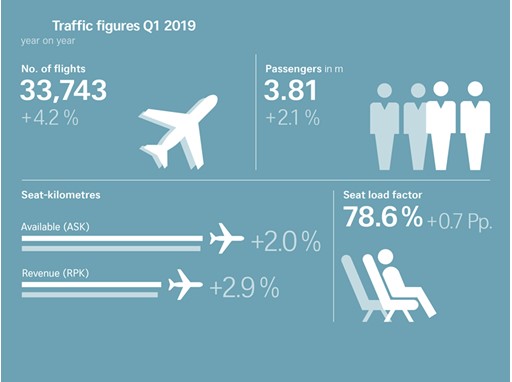 Swiss International Air Lines (SWISS)1 transported 3,808,356 passengers in the first three months of 2019, 2.1% more than in the same period last year. A total of 33,743 flights were operated during the period, a 4.2% increase on January-to-March 2018.
First-quarter passenger capacity, measured in available seat-kilometres (ASK), was raised 2.0%. Total traffic volume, measured in revenue passenger-kilometres (RPK) rose 2.9%. Systemwide seat load factor for the first three months amounted to 78.6%, a 0.7-percentage-point improvement on the prior-year period.
Passenger numbers for March 2019 totalled 1,410,856, broadly unchanged from the 1,410,605 of the prior-year period. SWISS operated 11,736 flights in the month, 2.7% more than in March 2018. Monthly ASK capacity was raised 1.3%, while March RPK traffic volume decreased by 1.2%. Monthly seat load factor declined accordingly, slipping 2.0 percentage points to 80.7%.
1 excluding Edelweiss
CONTACTS
SWISS Media Relations

SWISS Media Relations

Switzerland

+41 44 564 44 14
MORE FROM Press Releases
SUBSCRIBE TO RSS FEED
XML