14-MAR-2019

Zurich Airport
SWISS reports new record CHF 636 million Adjusted EBIT result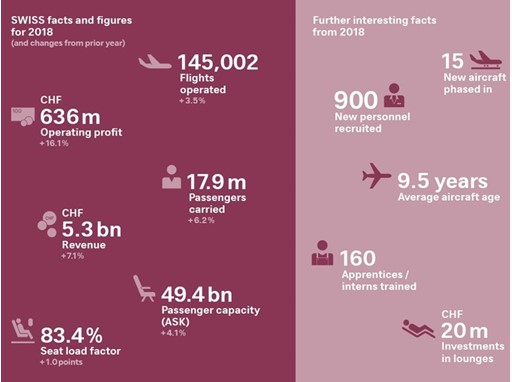 SWISS achieved adjusted earnings before interest and taxes (Adjusted EBIT) of CHF 636 million for 2018, a 16-per-cent improvement on the prior-year result (2017: CHF 548 million1)) and the highest operating profit ever recorded in the company's history to date. Key contributors to this record earnings result included investments in an efficient aircraft fleet and the premium SWISS product, healthy economic conditions, successful fuel hedges and various non-recurring items. Through a combination of additional capacity and higher seat load factors, total revenues for the year amounted to CHF 5.30 billion, a seven-per-cent increase on the prior-year volume (2017: CHF 4.95 billion). SWISS also initiated various actions in 2018 to enhance the reliability of its flight operations under the difficult operating conditions in Europe's air transport sector. And on the environmental front, The Airline of Switzerland continues to pursue its own efficiency enhancement programmes while advocating a global response throughout international aviation.
Swiss International Air Lines (SWISS) raised its total revenues seven per cent in 2018, from the CHF 4.95 billion of the prior year to CHF 5.30 billion. A strong sales performance was instrumental in the increase: the additional capacities provided through the deployment of larger aircraft were successfully sold in the passenger business, which even prompted an increase in overall seat load factors. SWISS transported just under 18 million passengers in 2018, setting new highs in both revenue and passenger volume terms. The record results are also attributable to the use of advanced and efficient aircraft: SWISS put two further Boeing 777-300ERs and 13 more C Series aircraft into service in the course of the year. Further benefits were felt from the company's investments in its premium product (such as its lounges), from the generally healthy economic conditions, from successful fuel hedges and from various non-recurring items. As a result, SWISS also achieved a substantial increase in its operating profit: adjusted earnings before interest and taxes (Adjusted EBIT) amounted to CHF 636 million, a 16-per-cent improvement (2017: CHF 548 million1)) and its best operating result since the company's foundation in 2002. 
All areas of the company, including its cargo business and its Geneva operations, made sizeable contributions to the favourable earnings result. "I am very proud of our entire SWISS team," says CEO Thomas Klühr. "And I am delighted that we have posted the highest operating profit in our company's history, and have achieved an EBIT margin of more than eight per cent for the fourth year in succession."
"Our billions in investments are reaping their rewards," adds Chief Financial Officer Michael Niggemann. "And the fact that we are able to sustainably make such investments, and that our earnings strength enables us to derive our share of our industry's continued growth, is thanks also to our rigorous cost discipline and our cost efficiency."
Total revenues for the fourth quarter of 2018 were up three per cent on the prior-year period at CHF 1.28 billion (2017: CHF 1.24 billion). Adjusted EBIT for the fourth-quarter period declined by 20 per cent from the CHF 109.21 million1) of 2017 to CHF 87.28 million1), owing in particular to higher fuel costs.
Outlook
SWISS will continue to benefit from its advanced and fuel-efficient aircraft fleet in 2019. The positive impact here will be felt even more strongly from summer onwards, once all thirty C Series aircraft are delivered and in service. At the same time, however, costs are expected to increase as a result of the preparations for the arrival of two further Boeing 777-300ERs and the first Airbus A320neo aircraft, along with a decline in the benefits from fuel hedging arrangements. SWISS nevertheless seeks to achieve a double-digit Adjusted EBIT margin for the year.
Stabilization of flight operations a top priority
To prevent a recurrence of the numerous delays and cancellations that were experienced in summer 2018 owing to the structural capacity problems in Europe's air transport sector, SWISS has developed "Precise", a programme of various actions and planned investments that should raise operating reliability and minimize the adverse impact on the traveller of any irregularities. The actions being taken here include providing additional personnel and more reserve aircraft and extending the turnaround times at outstations. "The fact is that Europe's airspace and airports are at their capacity limits, and simply cannot keep pace with the still-rising demand for mobility among the population," says Thomas Klühr. "But these structural problems will not be resolved by our initiatives alone: what is needed is action on the political front, too."
Climate change actions in international aviation require a global approach
Thomas Klühr also has a clear view on the current climate change debate and the idea of imposing a 'carbon tax' on air tickets. "If we are to make genuine progress in climate protection terms and simultaneously maintain Switzerland's locational appeal," he says, "a globally coordinated approach within the international aviation community is the only way to proceed. National and European taxes would create a competitive disadvantage, and would primarily damage the value creation process and jeopardize jobs in our home country."
In view of this, SWISS supports the CORSIA global climate protection approach of the UN's ICAO, under which the aviation sector will strive to be carbon-neutral in its growth from 2020 onwards, and will also offset over 2.6 billion tonnes of carbon dioxide emissions between 2021 and 2035. The scheme's global adoption should avoid any disadvantage to any of the industry's participants in competition terms.
SWISS also works continually to improve its own fuel efficiency and optimize its processes and procedures in the air and on the ground, and has invested over CHF 8 billion in a more efficient aircraft fleet. By investing in the latest aircraft and continuously further enhancing its operations, SWISS has reduced its carbon dioxide emissions by almost 30 per cent in the last 15 years, down to 3.11 litres per 100 passenger-kilometres.
1) SWISS adopted new accounting principles at the end of 2018 in compliance with the accounting principles and provisions of the Lufthansa Group. An Adjusted EBIT of CHF 553 million for 2017 and an EBIT of CHF 101 million for the fourth quarter of 2017 were previously reported in March 2018. The operating result for the fourth quarter of 2018 and the prior-year comparison pay due and proportionate regard to the impact of these changes to accounting principles.
CONTACTS
SWISS Media Relations

SWISS Media Relations

Switzerland

+41 44 564 44 14