12-JUN-2019

Geneva Airport
SWISS offers its passengers specialities from Canton Vaud aloft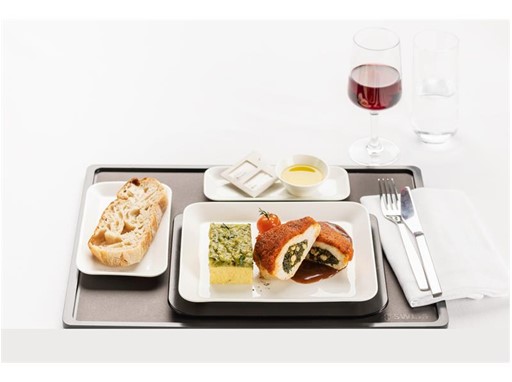 SWISS will be serving food and drink delights from Canton Vaud for the next three months in the latest chapter of its award-winning "SWISS Taste of Switzerland" inflight culinary programme. The new dishes have been created by Philippe Gobet, Executive Chef at the EHL Hospitality Management School in Lausanne.
From June to early September, Swiss International Air Lines (SWISS) will be offering new meal creations to its First and Business Class customers travelling on long-haul services from Switzerland. For the three-month period, Canton Vaud in Western Switzerland will be the featured region in this latest instalment of the "SWISS Taste of Switzerland" inflight culinary programme. And in view of its role as the main partner of the "Fête des Vignerons 2019", SWISS has teamed up to provide the new meals with Philippe Gobet, Executive Chef of the EHL Hospitality Management School in Lausanne, which is a further partner of the once-in-a-generation festival that will be held in Vevey this summer.
The EHL Hospitality Management School is famed well beyond Switzerland, and is the only school in the world with a gastronomic training restaurant – Le Berceau des Sens – which is the proud holder of a Michelin star along with 16 GaultMillau points. The creations of Executive Chef Philippe Gobet, who was named a "Meilleur Ouvrier de France" in 1993, deftly blend the sophistication of French cuisine with Swiss produce and local savoir-faire.
Under this latest "SWISS Taste of Switzerland" collaboration, Philippe Gobet has adapted his culinary creations to the constraints of the airline world to offer SWISS passengers an exceptional inflight dining experience. Several factors need to be taken into account here. The meals' constituents, for instance, should not undergo too much textural change when the dishes are reheated on board. The seasoning must also be adjusted: passengers' sense of taste is slightly affected by the cabin environment. And the food's arrangement and presentation must also pay due regard to both interim storage and inflight service demands.
The award-winning "SWISS Taste of Switzerland" programme has been highlighting all the culinary variety of SWISS's home country since 2002, inviting a guest chef from a different Swiss canton every three months to create special meals for SWISS passengers' enjoyment on board.
SWISS First: veal tenderloin or lemon-crusted turbot
For their starter, SWISS First travellers can opt for Philippe Gobet's scampi with yuzu gelée, watercress mayonnaise and aubergine cream. The starter choice also features local produce in the form of a selection of Vaudois meat specialities and Fête des Vignerons sausage. For the SWISS First main course, the guest chef has concocted a veal tenderloin with truffle sauce served with a carrot purée with brown butter, fava beans and chanterelles or, for the more seafood inclined, a lemon-crusted turbot with sauce vierge, which comes with mashed potato and peas and a vegetable-stuffed courgette flower. The Gobet First Class selection is rounded off with a layered chocolate cake with salted caramel, praline ice cream and caramelized hazelnuts or a "Mirliton" apricot and almond tart.
SWISS Business: tomato-crusted chicken breast or pike perch with red wine sauce
For SWISS Business travellers, the Philippe Gobet culinary experience begins with a Bündnerfleisch air-dried meat and cheese millefeuille accompanied by a parmesan sablé, artichoke purée and pickled vegetables. The Gobet main course offering comprises a tomato-crusted chicken breast stuffed with olives and spinach served with polenta galette with courgette, a pike perch with red wine sauce or South Indian coconut noodles with date chutney. Philippe Gobet completes his Business Class creations with an apricot and vanilla slice with pistachio sponge and raspberry coulis.
A selection of Vaudois cheeses and wines
The SWISS First and SWISS Business selections of cheeses and wines will also be spotlighting Canton Vaud over the next three months. The inflight meals will be accompanied in both classes by a range of regional cheeses produced by small cheese dairies that includes Le Maréchal, a raw-milk artisanal cheese from the heart of the Vaudois countryside which is a fitting tribute to the meticulous local cheesemaking tradition.
On the wine front, SWISS Business travellers can look forward to a Lavaux - Château de Montagny Grand Cru Villette AOC 2017 Chasselas from Jean & Michel Dizerens or a Domaine Grange Volet 2017 Pinot Noir from the cellars of Henri Badoux in Ollon. SWISS First customers, meanwhile, will enjoy a Médinette Dézaley 2017 Chasselas from the Domaine Louis Bovard in Cully or a Clos du Rocher Grand Cru Rouge blend from Obrist in Vevey.
CONTACTS
SWISS Media Relations

SWISS Media Relations

Switzerland

+41 44 564 44 14
MORE FROM Press Releases
SUBSCRIBE TO RSS FEED
XML