26-APR-2018

Zurich Airport
SWISS named Switzerland's most attractive employer in 2018 Randstad Award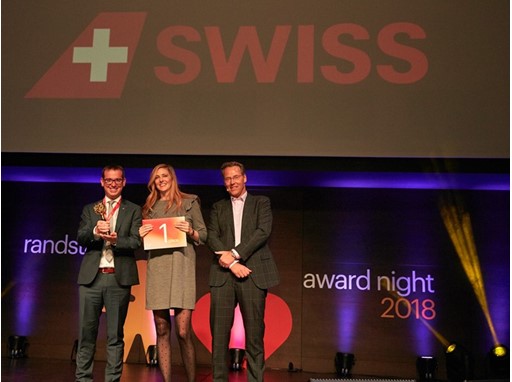 SWISS has been declared Switzerland's most attractive employer in the 2018 Randstad Award. The distinction was presented in a formal ceremony at Zurich's "Aura" venue on the evening of Wednesday 25 April.
Swiss International Air Lines (SWISS) has been presented with this year's Randstad Award for Switzerland's most attractive employer. The distinction was bestowed in a formal ceremony at Zurich's "Aura" venue on Wednesday 25 April.
This is the fifth time that the Randstad Award has been bestowed in Switzerland. Candidate companies are assessed in terms of their appeal as a potential employer using 16 criteria that reflect the perception of each company's employer brand.
SWISS has risen from fourth last year to first in this year's Randstad Award, with particular improvements in the areas of "Reputation" and "Salary and Benefits". SWISS also scored more points this year in the "Pleasant Work Atmosphere" category than it had in 2017.
"We are delighted with this distinction," says Christoph Ulrich, SWISS's Head of Human Resources. "SWISS has always been a strong corporate brand. But I'm especially pleased to see our employer brand reach such heights, too. It's very important to us to establish a strong brand on the employer market – a brand that enables us not just to retain our talent, but to encourage tomorrow's managers and specialists to join us, too. This first place shows that our endeavours are bearing fruit. And we take this Randstad Award as an incentive to keep to the course we've taken and continue to do our utmost to steadily further improve."
About the Randstad Award
The Randstad Award is bestowed every year on the most attractive employers in 30 countries all over the globe. The Award is based on the world's most comprehensive and representative employer branding study, which is conducted in collaboration with independent Belgium-based market research company Kantar TNS, and which polls potential employees between 18 and 65 on the appeal as employers of the 150 biggest companies in their country.
The companies concerned are assessed on the basis of 16 criteria which reflect the perception of their employer brand. These include long-term job security, further training opportunities, promoting diversity and integration and the use of the latest available technologies. Companies are designated to participate: they cannot apply themselves.
CONTACTS
SWISS Media Relations

SWISS Media Relations

Switzerland

+41 44 564 44 14
MORE FROM Press Releases
SUBSCRIBE TO RSS FEED
XML